Radiation Expertise Since 1979: Your Partner for Safety and Innovation
Harnessing Over Three Decades of Experience to Provide Comprehensive Radiation Safety Services and Innovative Solutions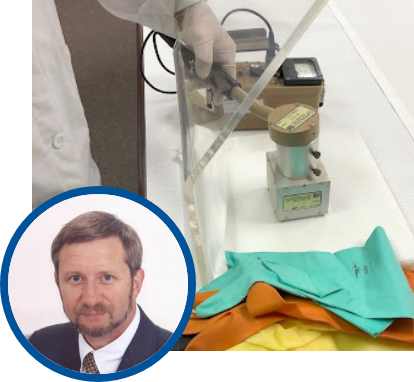 Started in 1979 by Dr. Robert L. Metzger, Radiation Safety Engineering, Inc. is a consulting firm located in Chandler, Arizona.
With over 35 years of experience, we offer a complete radiochemistry laboratory and support services to users of radiation producing machines and radioactive materials.
Dr. Metzger received his Bachelor of Science with distinction in Nuclear Engineering from the University of Virginia in 1973. After moving to Arizona, he completed his Master of Science degree in 1978 and performed research at the Oak Ridge National Laboratory. In 1997, he completed his PhD in engineering with a dissertation on the Solubility Testing of Actinides on Breathing Zone Air Samples. Training, Classes & Faculty
Radiation Safety Engineering, Inc. offers a variety of training courses for users of both ionizing and nonionizing radiation. Click below to learn more & register.
A selection of works that have been published by, or in association with employees of Radiation Safety Engineering, Inc.
Certified radiochemistry lab providing comprehensive water and air analysis services, including uranium and radon testing.
Radiation Safety Engineering, Inc. provides numerous Health Physics services to users of radiation producing equipment and radioactive materials.
If you have any questions, feel free to contact us!
Reviews From the Community
Discover what our customers are saying about their experiences with our services and courses.
The online 40-hour RSO training from Radiation Safety Engineering is not only excellent—it's also literally fun. Drs. Metzger and Holbert teach you how to grasp a complex and fascinating subject in a practical, enjoyable way. Everybody is very helpful and responsive, during the course and after.
I have no previous experience being an RSO or shipping radioactive materials and I had many questions. The instructors were extremely patient and helpful and were able to answer all of my questions. I highly recommend this class for anyone that has to take a Radiation Safety Officer class and/or DOT Hazmat training.
I just recently completed the online Radiation Safety Officer Training and it was great on every level. The lectures were fun and engaging, the information I learned was valuable, and the at-your-own-pace style lectures work great for someone with a busier schedule. Very impressed, and would certainly recommend!